Buy Social Media Signals with confidence from us. We guarantee any Facebook Likes, Tweeter Follower, YouTube Views or any other social signal by us are 100% Real Human. Do NOT buy cheap from other un-trusted sellers.
Welcome to Social Media Core
Social Media presence and activities for small and big companies is not something to ignore. Search Engines have given a big part to the website position in search engines to the social signals and activities which for shows grows more and more. The more social activities, the more exposure in search engines. We understand many businesses may found it very difficult to achieve this social activities. so here at SocialMediaCore.com we deliver you 100% human social activities and targeted social signals such as: Twitter, Facebook, YouTube and Instagram campaigns.  100% GUARANTEED.
We are one of few Social Media providers who provide TARGETED Facebook Likes, Facebook Followers, Twitter followers, Twitter ReTweets, Google Plus, etc to target countries and categories. For example, If you purchase 10,000 facebook likes, then 10,000 real human will like your fan page or website. Our promise is excellent support, authenticity, quality that comes with 100% guarantee.
Buy Facebook likes, Buy Twitter Followers, Buy YouTube Views

Our Social Media Services
Social Media Source:
16000+ Websites
6 Search Engines
5 Internet Service Provider
Social Network websites
Movie websites
Game websites
Domain and Web hosting websites & companies
Many more…
This gives more than 20,000,000 visitors a day to our massive network Guarantee:
100% Human Social Signals
We do NOT use proxies
We do NOT use any bot software
We do NOT promote any illegal softwares
We do NOT promote any torrents website etc
We do NOT any extremist social page
Share the love :-)
We at Social Media Core believe in highest quality of social media services and look at each customer's order as individual order to make sure the best quality is delivered. Please share the love:
Visit URLrate.com to find your website worth and web statistics. You could submit your website to more than 200+ Search Engines for free as well.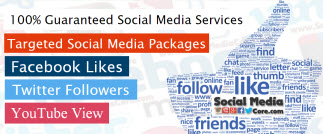 Brand Name:
Social Media Core
Service:
Buy Facebook Likes, Buy Twitter Followers
Starting Price:
USD 15.00